SALEIRO
flavours by the sea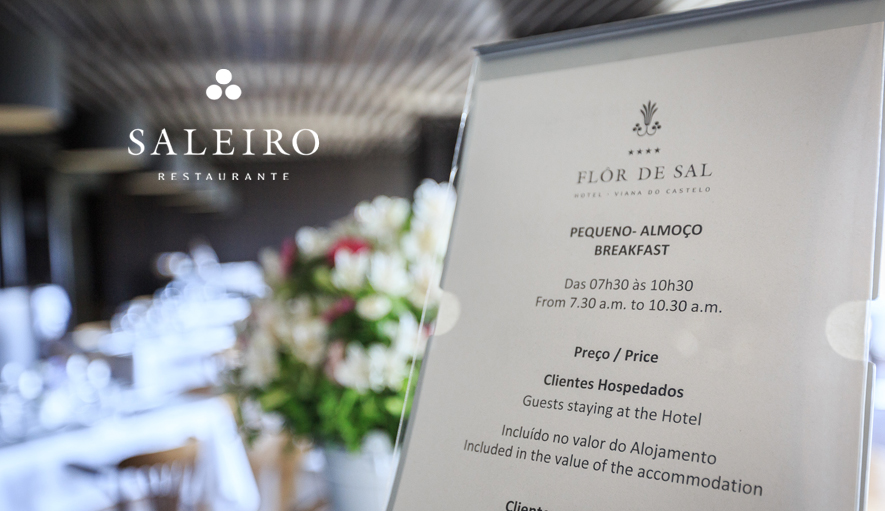 Saleiro Restaurant
Customers can enjoy a sea view and choose from an innovative menu which does not neglect the traditions of the Minho region.
A wide range of options are on offer, from the working buffet lunch to a social dinner among friends. On days with inviting weather the outdoor terrace is the ideal place to eat your meal.
Lunch
The Saleiro Restaurant is closed for lunch. On Saturdays and Sundays come and try our traditional buffet lunch. For business events, contact our booking service.
Dinner
APPETISERS
Simple – Bread, Butter and Mineral Water 1,80 €
Complete – Bread, Butter, Mineral Water and 3 Appetisers 4,00 €
STARTERS
Fish Soup with Coriander and Toasted Bread 4,50 €
Cream Soup of the Day 4,00 €
Jabugo D.O. Huelva Selección "Cebo" Smoked Ham 10,00 €
Shrimps Fried in Garlic and Alvarinho Wine 10,00 €
"Babosa" Clams "Bulhão Pato" style +/-250g 10,00 €
Xuxa Tomato Salad with Búfala Mozzarella and Baked Mango Cream 11,20 €
PASTA
Shellfish Fettuccine with Fresh Tomato and Herbs 14,00 €
CHILDREN'S MENU
Nemo Seabass Fillet with Coloured Rice 10,00 €
Spaghetti with Mini Sausages, Bacon and Egg 10,00 €
Steak with Fired Egg and Chips 10,00 €
The children's menu includes the Cream Soup of the Day
FISH
Fresh Tuna with Creamy Onion Sauce 16,00 €
Baked Seabass with Baked Potato and Sautéed Vegetables 14,00 €
Runny Rice and Fish Dish (2 people) 26,00 €
Barbecued Cod 16,50 €
MEAT
Pork Marinated in Red Pepper Sauce, Diced Potato with Pennyroyal and Sautéed Turnip Tops 17,00 €
Barbecued Steak with Garlic and Bay Leaf (+/- 180g) 19,00 €
Barbecued Thick Rump Steak with Runny Rice and Beans (2 people +/- 360g) 31,00 €
DESSERTS
Toasted Custard Cream 4,00 €
Viana Tart 3,00 €
Chocolate Cake 4,00 €
Toasted Custard Cream with Flame-Grilled Fruit and Lemon Ice Cream 7,00 €
Apple Whirl Marinated in Muscatel and Caramel with Vanilla Ice Cream 6,50 €
Thinly Sliced Pineapple with Ginger and Orange Sauce 6,00 €
Glass of Ice Cream (each ball) 2,50 €