SALEIRO
flavours by the sea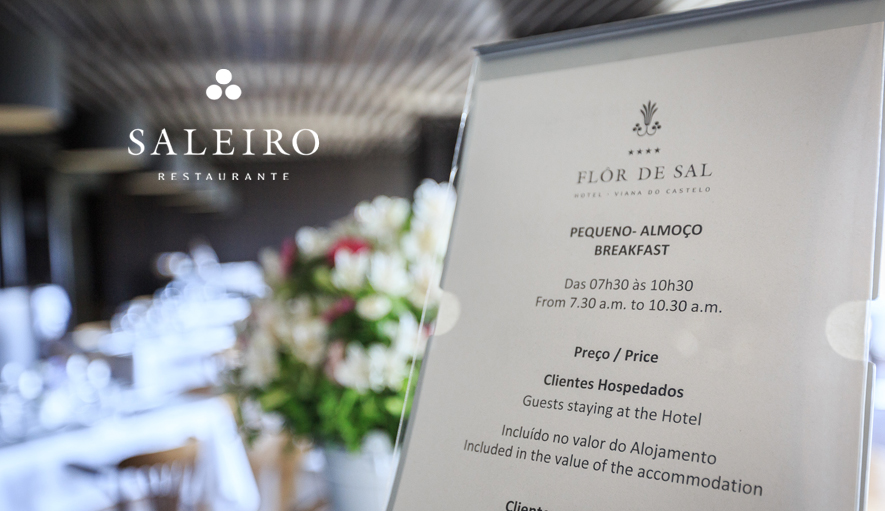 Saleiro Restaurant
Customers can enjoy a sea view and choose from an innovative menu which does not neglect the traditions of the Minho region.
A wide range of options are on offer, from the working buffet lunch to a social dinner among friends. On days with inviting weather the outdoor terrace is the ideal place to eat your meal.
The Saleiro Restaurant is closed for Sunday dinners and Monday lunches and dinners.
For business events, contact our booking service.
APPETISERS
Simple – Bread, Butter and Mineral Water 2,00 €
Complete – Bread, Butter, Mineral Water and 3 Appetisers 5,00 €
STARTERS
Fish Soup with Coriander and Toasted Bread 5,50 €
Cream Soup of the Day 4,00 €
Shrimps Fried in Garlic and Alvarinho Wine 11,00 €
Mini portuguese game sausage sautéed with greens, shitake mushrooms and quail egg 11,50 €
PASTA
Tagliatelli with prawns, clams, mussels, tomato & coriander 16,00 €
Penne with mushrooms, spinach & cream 16,00 €
CHILDREN'S MENU
Seabass Fillet with White Rice 12,50 €
Spaghetti Bolognese 12,50 €
Hamburguer with bacon and cheese served with french fries 12,50 €
The children's menu includes the Cream Soup of the Day and ice cream ball
FISH
Croaker with asparagus "migas" 16,50€
Stewed sea-bass with vegetables and roast potatoes 15,00€
Fish rice (2 persons) 28,00€
Grilled codfish filet with breadcrumb topping 18,50€
Fish & Shellfish Cataplana (20 minutes) (2 persons) 42,00€
Roast Octopuss with onions & tomato 22,00€
MEAT
Iberian pork medallions marinated in sweet pepper, served with sweet potato mash and vegetables 18,00 €
Browned tenderloin with potatos & turnip tops sautéed (+/- 180g) 19,00 €
Grilled veal with beans rice (2 persons ) (+/- 360g) 32,00 €
Lamb Chops with potatos & vegetables sauté (+/- 210g) 20,00€
DESSERTS
Créme brullé 4,50 €
Viana Roll (stuffed with sweet eggs) with cinnamon sauce and vanilla ice cream 5,50 €
Chocolate cake, red fruits & ice cream 7,50 €
Traditional eggs pudding 8,00 €
Thinly Sliced Pineapple with Ginger and Orange Sauce 6,50 €
Serra cheese (sheep) with pumpkin jam & nuts 7,50 €
Ice Cream Bowl – priced per scoop 2,50 €